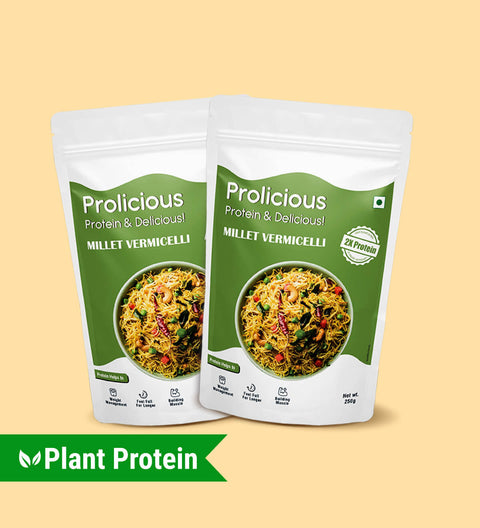 High Protein Millet Vermicelli (Pack of 2)
250g Pack x 2
10 g protein in a medium-sized bowl  
Plant Protein | Kitchen Ingredients | Goodness of Millets
About
Relish the perfect combination of health and taste with our yummy vermicelli. With the goodness of millets, this vermicelli has DOUBLE the protein of regular vermicelli. It is versatile which makes it perfect for savory as well as sweet dishes.  
Savor the goodness of millets with our tasty and healthy vermicelli. Nutritionally balanced, our vermicelli has DOUBLE the protein of regular with lesser carbs, and more fiber. Perfect for you and your family, this high protein vermicelli has all ingredients that support all-round nourishment of growing children and adults alike.
Tasty and wholesome, this vermicelli is made with flours that you find in your kitchen. Our millet vermicelli gives you 2X protein of regular vermicelli without any processed powders or supplements.
From meals to desserts, this millet vermicelli rebalances your plate with the double protein content and higher nutrient quotient.
Our millet vermicelli has 2X protein which helps you,
✅ Manage your weight
✅ Reduce blood sugar spikes essential for those with PCOS, PCOD, diabetes
✅ Build and repair muscles for better fitness
✅ Feel full longer with reduced cravings
Prolicious Millet Vermicelli

 

10 g of Plant Protein in a Medium-Sized Bowl

Made with Little Millet + Durum Wheat

High Fiber

Regular Vermicelli

 

4 g Protein in a Medium-Sized Bowl

Made with Semolina

Lesser Fiber
Who is this for?
This is for…
✅ Energizing you, your partner, your parents, your children
✅ Nourishing pregnant and lactating women
✅ Enhancing your kids' strength and immunity…and essentially everyone.
Weight: 250 grams
One pack has 5-6 servings.
Ingredients: Little Millet Flour, Durum Wheat Flour, Peanut Flour, and Xanthan Gum
Packaging: Our Vermicelli is sealed in a zip-lock pouch.
Nutrition Facts:
1 Bowl (50 g)

Qty

Per 100 grams

Qty

(1 bowl) 50 g

RDA %

Energy (Kcal)

344

155

8%

Protein (g)

22

10

22%

Carbohydrate (g)

66

30

23%

Total Sugar (g)

0

0

0%

Added Sugar (g)

0

0

0

Dietary Fibre (g)

11

5

12%

Total Fat (g)

1.5

0.7

1%

Saturated Fat (g)

0.1

0.06

0.3%

Trans Fat (g)

0

0

-

Cholesterol (mg)

0

0

-

Sodium (mg)

54

24

1.2%
Little Millet flour, Durum wheat flour, Peanut flour and Xantham Gum
Contains Peanuts,Wheat. Processed in a facility that handles oats
A. Yes, we provide free shipping all over India on orders above value ₹300. For orders below ₹300, we charge ₹50 for delivery.

| | |
| --- | --- |
| Locations | Delivery Time |
| Within Mumbai | Same day / Next day delivery |
| Within Maharashtra | 2-4 days |
| UP & Northeast States | 5-8 days |
| Other States | 4-6 days |
A. Yes, we do have COD option with no extra charges. We also accept all kinds of online payment options.
A. As we provide Free delivery all over India on orders above value ₹300 and for orders below value ₹300, Extra delivery charge of ₹50 is applied to the order value. We recommend you add few more products to your order and avail free delivery. You can try out our Prolicious Thins.
A. Yes, our products are high in protein content and fibres and relatively low in calories compared to other snacks in the market.
A. Yes, after consuming our snacks, the blood sugar levels are not spiked, and a diabetic patient can have them in decent quantity. The gluten free thins are the best suited for diabetic patients.
A. Our products are high in protein and fibre. It helps to keep you full for longer and prevents blood sugar spike. This could prevent food cravings as well. In addition to these health benefits, our products are tasty and delicious. A perfect partner for your healthy diet journey!!
Very good quality
Enjoying every bit of the millet in this form.
Yumm
It's very tasty and can be cooked like normal vermicelli.
High Protein Millet Vermicelli Pack of 2