My Name is Dev, and I'm a Foodie.
We've started our journey with Prolicious, and we can't wait to make the world a healthier place. We'd love for you to join us in the movement towards healthy, tasty, and sustainable snacking!
I'm sure most of you can relate when I say that I've always struggled to find food I like that likes me back. I'm always craving chips, pizza, pasta, all the stuff that just calls to you from shops and menus and kitchen shelves. The thing is, I know that these aren't great for my health — so I started searching for a better option.
I've spoken to so many people that echoed that same thought back to me – I love food, I want to be healthy, but I can't find snacks that taste good AND feel good. Then I did a little more research, and found over 68% of Indians are protein deficient!
So, here's the trifecta of what Prolicious has to offer:
 High protein, low carb healthy snacks;
Great taste at an affordable price;
A planet-friendly, plant-based alternative to traditional meat- and dairy-based forms of protein (all our products are 100% vegan)
The benefits of foods with this balanced nutrition profiles are:
It helps in weight management by helping you feel full for longer
Immunoglobulin, the body's main immune response system are made of proteins
Protein in required to grow and maintain a healthy muscle mass
Dev's Faves Combo
Dev's Faves: Check out Devendra's Favorite prolicious products!
All prolicious products come with 2X Natural Plant Protein as compared to other options in the market.
This combo includes:

1 High Protein Oats Chilla Premix
1 High Protein Macaroni Pasta
1 Schezwan Thins Pack of 3
1 Masala Noodle Thins Pack of 3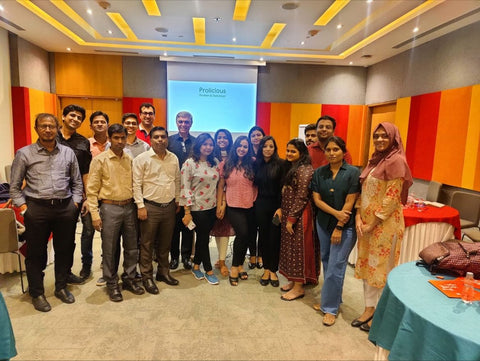 Our Aim
Our aim is to make protein rich healthy food accessible, affordable and tasty. Prolicious products are designed to help you feeling full for longer, managing your weight and building strength.
Protein & Health
Today our biology hasn't changed much but our relationship with food has become distorted, causing a health crisis for the people & planet. Finding balance again is challenging to say the least, as we want to enjoy all our favorite snacks without stress, consequence and guilt.
Presently, 68% of Indians are Protein deficient with majority of them being unaware about their daily protein requirements. A sedentary lifestyle and inadequate protein diet can lead to poor muscle health, which may affect productivity of an individual.
The Formation of Prolicious
Prolicious was created keeping this in mind and to support the nutritional needs of every individual. We believe in helping solve environmental problems in the food space, which are caused due to animal agriculture.
Together with nutritionists and food technologists, we develop intelligent products that make vegan and high protein diet worry-free.
We aspire to develop treats that are convenient, can be consumed on the go and help us in maintaining our daily protein intake thus making healthy eating simpler.